Design for the Staging level
Note: This is a living document. It will change as often as this railroad is tweaked and tuned.
Last modified on Feb 17, 2019 @ 11:01 pm
The following is the most recent design for the Staging level. For posterity, the previous entries will be kept below.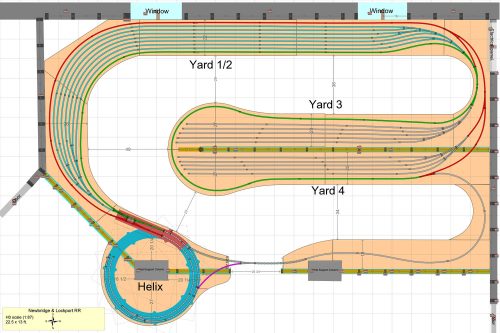 As of November 2018:
This version was adopted for construction, which I felt offered enough options and future-proofing. Incidentally, all the track was purchased to build it and the design was changed to the above several months later.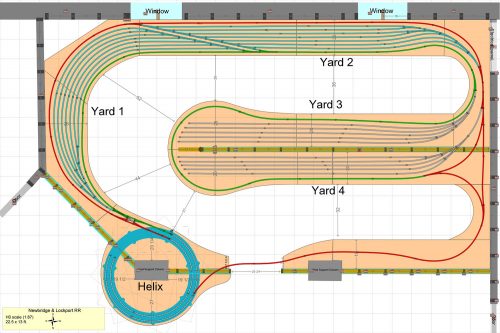 As of February 2018:
This was the N Scale layout, abandoned when I switched (back) to H0 Scale in March 2018.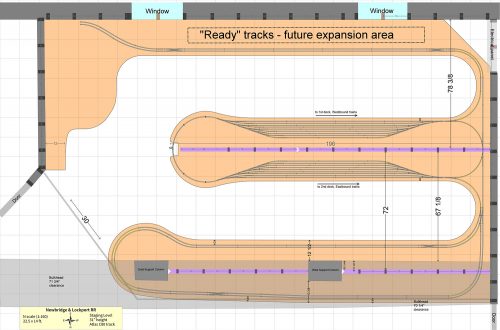 As of December 20, 2017:
And so I thought I covered all the corners with the Staging, but today I realized that this layout would not be built overnight. DUH!
I'm taking a phased approached, starting with the Staging first, then the 1st Deck, followed by either the branch line to Lockport, or the 2nd Deck. While there's only Staging and the 1st Deck, I need a way for trains to get back once they reach the end of the 1st Deck (at the East Support Column).
The two options as I see them are:
build a return loop around the East Support Column on the 1st Deck (an easy but band-aid solution)
build a portion of the 2nd helix around the East Support Column, up to the 1st Deck from Staging (more difficult but long-term solution)
Considering that once I put the 1st Deck up, it would be harder to make changes to the Staging, I decided to alter the Staging level and add a path to the 2nd helix from the root of the peninsula.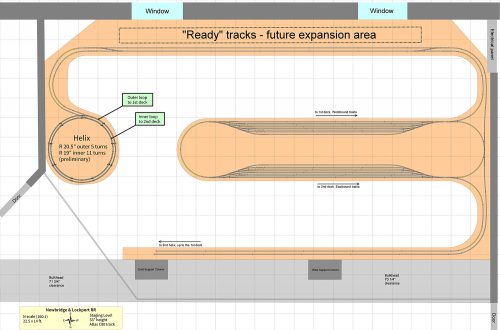 This path will just be a narrow shelf, 8″ in depth, attached to the columns and carrying two tracks around the lower portion of the layout space.
Originally the 2nd helix at the East Support Column was only supposed to be half-a-helix (1st Deck to the 2nd). If I build a full helix at that location, then I believe that would cover all future possibilities of traffic, from any direction of travel.