Awaiting track shipment, and a bus wire purchase
It has been a bit on a slow side past week as the shipment of track and turnouts for the Staging level is still somewhere in the cross-country Post Office pre-Holiday mess. Should've ordered these items much sooner, but a local hobby shop kept spinning me in circles for two weeks telling me how they would be able to get these items at a fair price, just to backtrack afterwards both on the price and delivery times.
In the mean time I was able to procure some wire for the main electrical bus and the DCC network, although I'm not sure what I'm going to do with remainder of the 1,000 ft. of this 6-wire stranded phone cable once I lay the DCC portion in. Couldn't find anything shorter around here and did not want to ship a heavier cables from afar.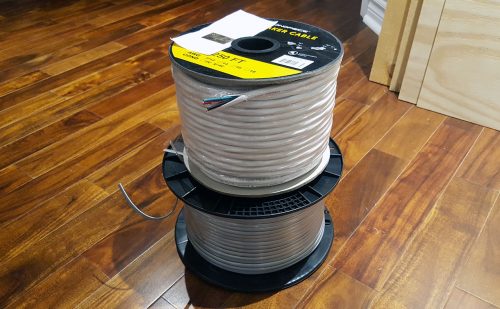 I ended up getting 250 ft. of Monoprice 12 AWG 4-conductor speaker wire, as I liked the price, size and local availability. I have been looking at Marine grade wire but it just wasn't worth it. Shipping 4 spools of 250 ft. each would've been costly as well. I do not foresee any corrosion happening in this climate controlled space, so tinned wire (that Marine grade was) is not really necessary.
Maybe I can do another update over the weekend, if I can have a bit of benchwork made for the Staging on the peninsula…we'll see.