More changes on New Year's Day..
Today marks the end of the railroad building marathon session which started two weeks ago. It's back to work tomorrow, boohoo. But before that, more progress has been made on the peninsula, which is finally taking shape.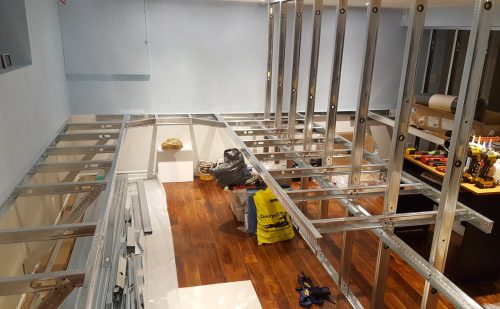 The South West curve has also been constructed – did not get a chance to finish its North West counterpart, so that's left for another day.
The peninsula framework feels very sturdy as-is, without any diagonal crosses going to the metal studs. I'm considering leaving it like this, though I might just add couple of crosses here and there, to have a peace of mind.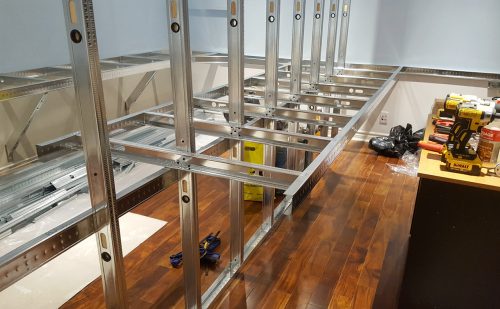 Nice to finally see everything come together, even though it's only the Staging level, it's putting things into perspective. You are finally getting a feeling of the layout room space when standing in the aisles, which are now defined by the framework on both sides.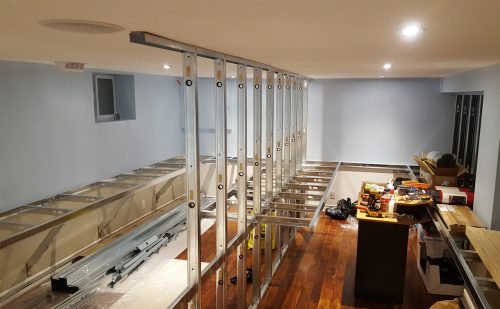 They are about 36″ wide for the most part, the South aisle (on the left in the photo)  is 37.5″, and the North aisle 36″. The latter tapers down to 35″ at the wall because the room itself was not straight and the columns threw out my measurements. Oh well, not a big deal anyway.
It's back to work this week and I will have to switch to a different construction schedule, with much less time each day to devote to building. I will still try to post updates as progress happens.
I need to decide on the helix size and shape and build that framework there, then move onto finishing the peninsula "tear" as that portion is very wide and once in place, it will not leave much room for any metal cutting and what not. Electrical wiring for the outlets needs to be done, too. The walls between the columns still need to be reinforced, and all the new walls will need the backdrops installed (have to acquire the hardboard, install it and paint it as well).