Another productive weekend and although I did not get to finish everything, most of the subroadbed has been cut and fitted on the lower level. I did not get to cut the peninsula blob as I ran out of time.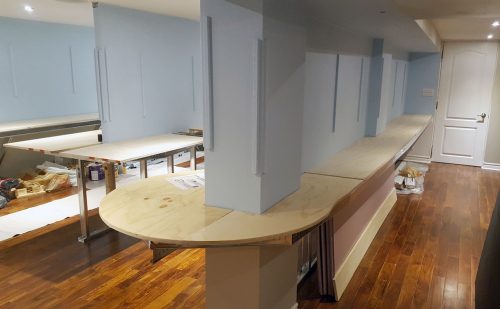 The work was going rather slow as each piece had to be fitted against the other and the wall/backdrop. Since this is in the basement, it meant going upstairs, then outside to cut, back again, test, then rinse and repeat if needed.
But, I'm happy that I did not ruin any panels, despite some awkward fits, and was able to use up all of the plywood as intended.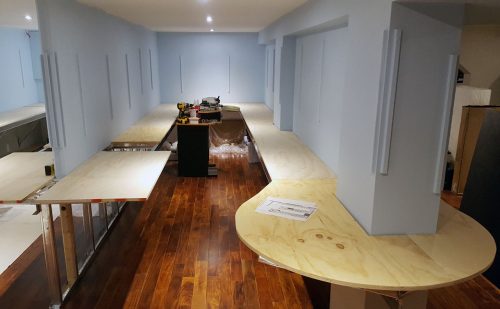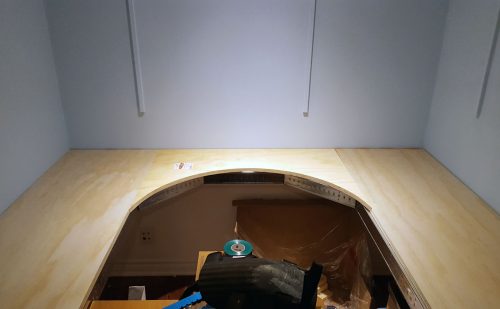 It does appear I might be short a few feet of plywood on the peninsula, grrrr. Not sure how that happened as I drew and tested everything in AnyRail first, to make sure I have enough plywood. I had to get another 4×8 sheet from the local big box store which should've been sufficient…oh well. I have some 12″x96″ pieces left I could probably put edge to edge to fill the wholes.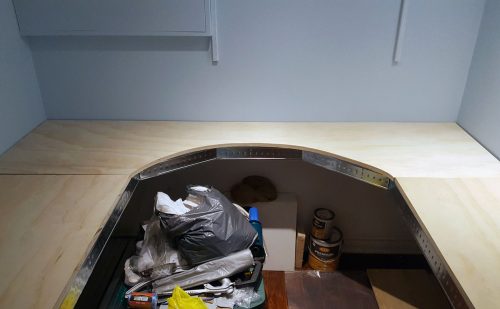 Lastly, I must say that this pine plywood I got is utter shite – generally uneven, twisted and warped, despite having 11 plys?! Thank-you Home Despot for not carrying Canadian made plywood but importing garbage from overseas and selling it at a premium ($50+ for 4×8 sheet 23/32″ thickness) so you can make 100%+ profit…assholes.
Oh, and big Fuck-you to the Canadian Forest Industry for cutting our forests and exporting all of our good wood abroad dirt cheap, while leaving us Canadians high and dry.
There, now you know how I feel about that.