Layout shape under construction
Hard to believe, but I have a layout shape I actually intend to see through completion. Granted, most of the benchwork is already built, but this last mile was a real killer for me (figuring out relationship between staging and my railroad, geometry of the staging deck, where to put an entrance to the layout space, and half a dozen other things). Not to mention that earlier this year I switched scales and went (back) to H0 from N that I have been planning to build.
I wanted to re-use as much, if not all of the benchwork I already have, plus stick with the layout shape that is in place (around the walls and a peninsula on the center). Stumbling stone was the helix location and how it ties into the layout plus available space for it.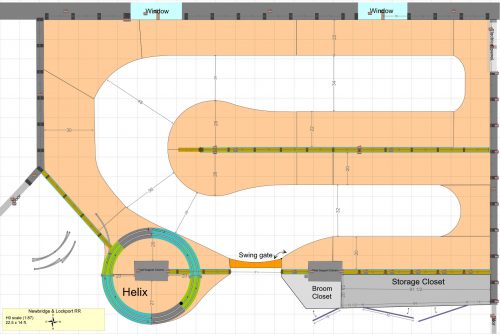 I did not want a helix taking 15% of the total space I have, and there was no place to tuck it in elsewhere. I considered putting it in the upper left corner and also in the lower right aisle, but that was too space-wasting to me. At the end it's back to where I originally planned it – around the support column. We'll see if that decision is going to prove more painful that others…
It would've been nice to have open staging below the columns, but there was no room for trains to re-stage themselves (double-ended yard). Also I could not operationally figure out in and out of the staging deck. A room this size is not big enough for the railroad empire I want to build. Isn't that always a problem, LOL!
I also wanted to build storage closets for my spouse, which was one of her wishes and the least I could do in return for being able to use most of the basement for my train hobby. So, I gave up open staging among other things (Lockport branchline might be the other big item to be left out).
Soon I hope to post basic track plans for the staging, lower and upper decks, although I'm in the process of building those above mentioned closets as well as the entry point to the layout room. I also need to cut the helix roadbed, too before I close up that diagonal wall in the lower left corner (probably after I build the helix, does not make sense to limit helix construction access it being around the column.