Tools and Supplies For Turnouts
After several weeks of waiting I've finally gathered the tools and supplies needed to build turnouts on the staging deck. In my haste to get everything ordered and sorted out, I wasn't thinking about rail sizes. My entire staging deck is Code 100, while the rest of the railroad will be Code 70 and Code 83. Well, I ordered things thinking that everything will fit, thus forgetting that the foot of the rail in Code 100 is wider. Meh, it doesn't fit the Frog Helper or the Stock Aid tools I bought (which are for Code 70/83).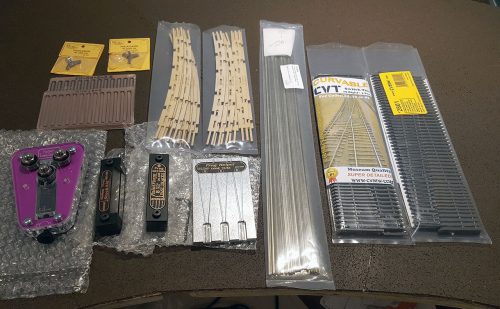 It's not a big deal, the most important tool for me is the Point Form with it's precise angles for points and frogs. And it works on all the rail sizes I use. I can solder the frogs on their own once they are filed, or can rig a quick frog helper in wood for a few turnouts I need in Code 100.
Perhaps I should've gone Code 83 in the staging as well, but people kept saying to go with Code 100 because it's robust, reliable and fool-proof. Besides, I really don't need anything fiddly in the staging once the other decks are in place above it.
Did I forget to mention I'm also going to build cross-overs inside the helix? This means 4 fully curved #8 turnouts…it'll be fun for someone who's never built a single hand-laid turnout before. Geometry looks something like this:

I wasn't sure if the CVT ties would arrive on time and was prepared to hand-lay these cross-overs "in-situ", using wooden ties and spikes (crazy, I know) but luckily Canada Post came through (despite rolling strikes) and I now have perfect plastic turnout forms saving me a lot of n00b pains.
I got Central Valley Model Works turnout ties because it would be the easiest and fastest way to hand-laid turnouts. I'll follow Joe Fugate's method using plastic CVT tie as a main roadbed, and plugging soldered rail on PCB ties into it.
Oh, and the best part I saved for last. I'm off work for the next two weeks, which means that while I need to remember to occasionally eat and sleep, majority of time will be spent working on the layout. Let the model railroading debauchery begin!