Benchwork building blocks acquired
I recently had an opportunity to stop at the local HD and browse throu…oh who am I kidding, I planned to do this. I spent almost two hours at Home Depot on my day off.
First had to rent their cargo van, then some time to find a suitable dolly/platform (during weekdays it seems they are hard to find – all the contractors beat me to them), then put all the goods on, pay ($$$), and then quite a bit of time loading it all up into the van (I was on my own, and these are 10 ft. long pieces, meh).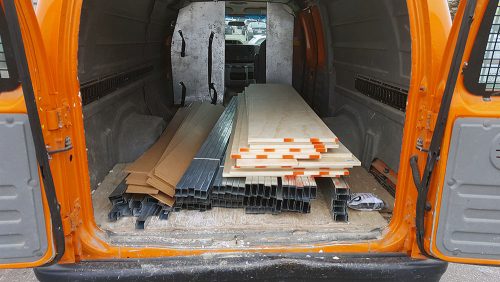 While I was at HD, I ended up getting the wood for sub-roadbed as well and fascia/valance. This entailed loading 4×8 sheets of 3/4″ Pine plywood and 1/8″ hardwood, 5 each, onto another platform, and pushing it through the store to the cutting saw area. Once I explained why I wanted 5 sheets of hardwood cut at the same time along the longer edge, and into as many 6″ strips as possible, everything was great. They really liked my "unusual" project and even thought I did this for living (yup, many people are filling their basements up with model railroads).
It took me a lot of time to get to this point, but the layout space is full of materials now. Wait, where am I going to build this again? DUH.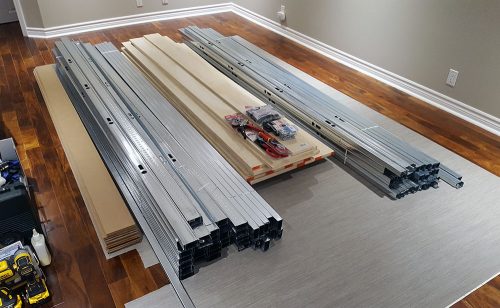 I guess I'll be moving some things around, to make room to actually build the peninsula in the middle of the room.
Also, had to buy some miscellaneous items like self-tapping and wood screws, aviation snips, crimping tool, washers…the bill just keeps adding up.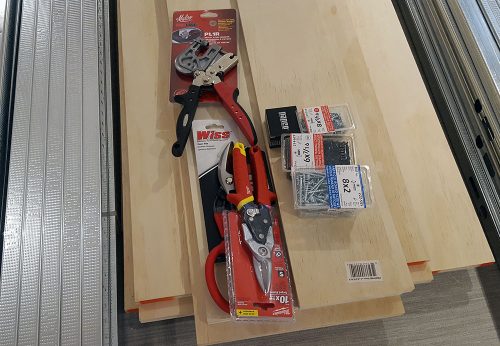 I opted for using metal studs for benchwork after quite an extensive research, both theoretical and practical. I knew I wanted to have light benchwork, but I was not happy with foam properties and it's ability to intensify noise (which is pretty annoying in N scale). Some people are not bothered by noise and build the open-grid benchwork with foam directly on top, some put plywood as well, while others just go plain shelf brackets and foam.
Many over-engineer their benchwork as if they are framing house walls (with 2x4s everywhere) and proudly show off their handy work. After reading up about metal benchwork I knew this could be the ticket towards light weight and fast construction. It is no wonder that metal studs are used in the construction business, they are erected fast and they go down fast, as well.
I also knew I did not want to deal with sawdust, especially in the closed space of the basement. During the winter months it is really not practical to cut wood outside, even when it's dry.
We'll see how this all works out, it could prove to be a total bust, and a pretty expensive one at that. Metal studs are not cheap and the cost is about 2x over the wood (if you go with cutting plywood sheets into 1x3s and 1x4s to make L girders or open-grid framework), but the benefits of ease and speed of construction, plus no cutting wood and inhaling sawdust in my humble opinion outweigh the cost.