Without much fanfare and after good portion of the day spent in moving materials around the layout room to clear space in the middle, we have groundbreaking.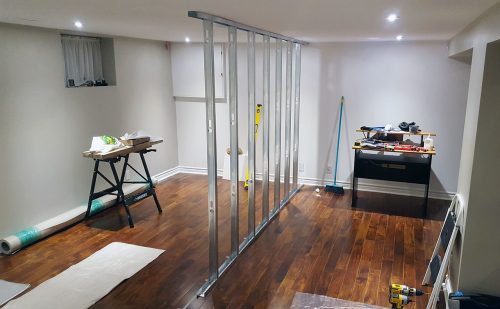 Nothing starts simple and this wasn't one of those cases. Heck, it took me a long time to get to this point, just to gather enough courage to actually do it. But what's done is done.
Let's see, before anything, having the right tools makes all the difference – they make life easier and get things done faster…
Let's measure some…uh that speaker…it just happens to be in the path of the ceiling track for the peninsula. Oh joy!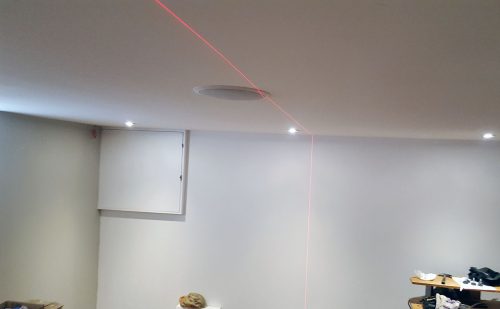 Bring out the heavy tools because this is going to get ugly! With the help of an angle grinder I managed to cut out a shape in the track for the speaker to fit in.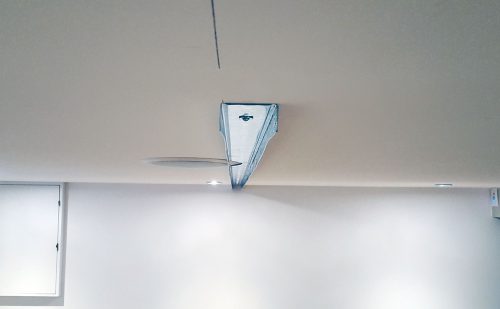 After that things seemed to pick up and really it took about two hours or so to get the wall up, but that's because I have no prior experience with metal studs and because I measure 9 times and then drill, screw, cut and crimp things in. Oh, if you plan to work with metal studs, you need a nice pair of aviation snips to cut the studs to size.
And, to the person who invented the punch lock metal stud crimper, you have my admiration and gratitude. Originally, I felt bad for spending $80 on a hand tool but after securing the first stud up with it, I saw the light and was a changed man. This tool crimps like hot knife through butter, and whoever thinks that using self-tapping screws to fasten metal studs to the metal track is fast, should reconsider and try this crimper. Of course if you do a sloppy job with the screws, sure it can be fast but that doesn't count. :)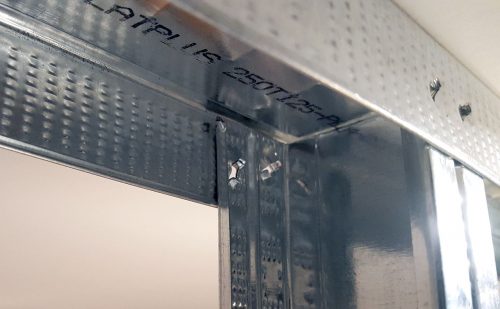 At the end we had a nice framed wall for the center peninsula, or at least most of it, since there's another few feet to add to it. A small step in the wall framing world, a giant leap for Newbridge & Lockport RR.
That's it for now, more to come soon…