Past several weeks have been spent building the closet area that my spouse had been waiting for (what seems an eternity). It was a slow process as I only had couple of hours after work, and then couple of weekends, of free time. At the end, it turned out nice and my SO is happy with the looks. Still need to put some shelving inside, although I do not foresee any issues with that (might re-use the sub-roadbed that was in this area originally).
I have to admit that I jumped into construction of this closet area simply to give me a direction to go with my layout. My spouse didn't care where the additional closet space was going to be as long as there was some. Ultimately, I forced my own hand to adopt a layout arrangement from the previous post, with the entrance door between the columns. Whether that was a good idea or not, only time will tell…
Couple of photos of the construction in progress:
This is what it all looked like before: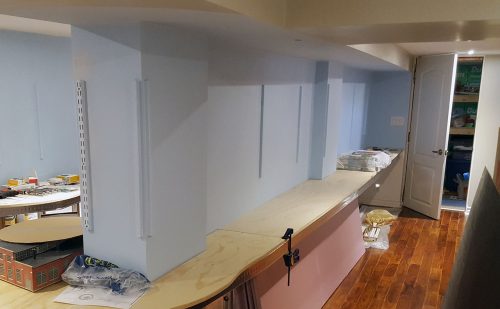 My hope is to now resume layout construction, starting with fully opening the entrance way, as well as building the missing wall. Along with that I'm working on finalizing the staging track arrangement and getting the remainder of the materials for the helix.