Despite my best intentions to do more work on the layout, it seems other forces work against me. Yesterday nothing was done as I was shopping for some electrical supplies after work. And you know what happens when you go to a big box store – it's like falling into a black hole.
Today, I primed myself in advance with will and determination to at least move 3 recessed lights on the South side of the room. Alas, I came home to a notice from the City that they are shutting water off at 6pm, TODAY, till 12pm (the next day, 18 hours, for real)?
So, I got like what, an hour maybe, to shower, prep. food, clean up, do everything that requires water and then sit put for 6 hours? I need water to do drywall patching in the layout room, damn it!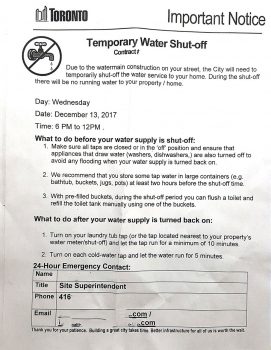 They are telling the entire neighbourhood that there would be NO water when everyone comes home, for 6 hours, and they are telling us on the day of the shut-off, while everyone is away at work.  Oh, and it's -11 C outside so forget any hot water you might want for showering, tea, or that hot water bottle to keep you warm.
By the way, this was NOT an emergency repair of some water main burst, but a construction work that was supposed to be planned and scheduled, but obviously mis-managed. What city does this to their citizens, while they are at home, and need the services the most?!
At least I managed to put that pop-up register and once the valance is in place, I will cut it out for a conduit to route the air into the aisle. That poor recessed light (that's not so recessed anymore) hangs silent as a victim of the City negligence.
Tomorrow is another day, and fingers crossed a tornado does not touch down on my street…