The sky looks "clear blue" here
We managed to get a gallon of paint today ("Clear Blue Sky") and put a coat on the walls just above the base of the Staging benchwork.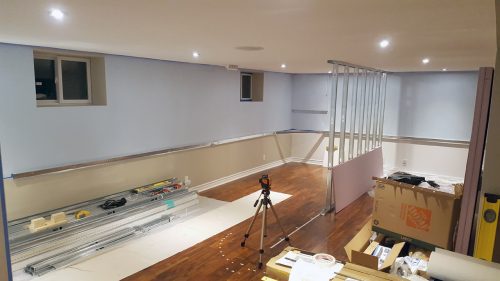 Now waiting for it to dry so I can do another quick coat over it, for a good measure, and to cover the "Revere Pewter" that is underneath it.
Since I'm still not sure whether/how the benchwork height will be modulated on the 1st and 2nd deck, I did not want to go all out and paint in sky gradients. I figure that it could be added afterwards, and we did get a quart of an analogues colour ("Crystal Blue Waters"), which would be blended from the horizon line upwards.
UPDATE: Finished